Was prompted to revisit a couple of older posts on Abraham Maslow after someone asked me to explain a reference this morning.
The one I shared was this one: "Motivation 3.0 – Pink Does Maslow".
Then I noticed one of my earliest Maslow posts was way back in 2002 "Maslow's Hierarchy of Needs" and that I had already added up-front links to two better later posts, the one above from 2013 and also "The Meme of Maslow's Mojo" from 2011.
Strangely, the reason Maslow was in my mind was another query in recent days – was it Bruce or Eddo? – asking if I'd noticed parallel's between Maslow and Robert Pirsig's evolutionary levels. Of course I had, plenty of times, but only noticed this morning that I'd made that explicit in the 2002 post above.
"I've [already] made made countless references to Maslow ever since I noticed that Pirsig's levels of "value" (absolute quality or goodness) appeared to mirror [Maslow's hierarchy of needs.]" (2002)
If that's not fascinating enough, imagine my surprise at this:
"Pirsig and Foucault seem to say [Maslow's levels] represent something pretty fundamental about human social organisation and values." (2002)
Pirsig, Maslow and Foucault already in 2002. I spent quite a bit of this last year joining up some Foucault dots in some other new correspondence on Pirsig. I'll need to go back to see where I made the original Pirsig-Foucault levels connection. (And here it is, reading Foucault's "Les Mots et Les Choses" in Aug / Sept 2002.) (Plus panrelationalism, threes / triads / triples / onion-skins, Wheeler on semantics underlying physics … it's all in there on Foucault.)
I need to stop reading and start writing!
=====
[Post Note: Ikigai – Similar set of concerns from the individual looking out rather than what interaction with the world gives to the individual – another representation of the content of Maslow: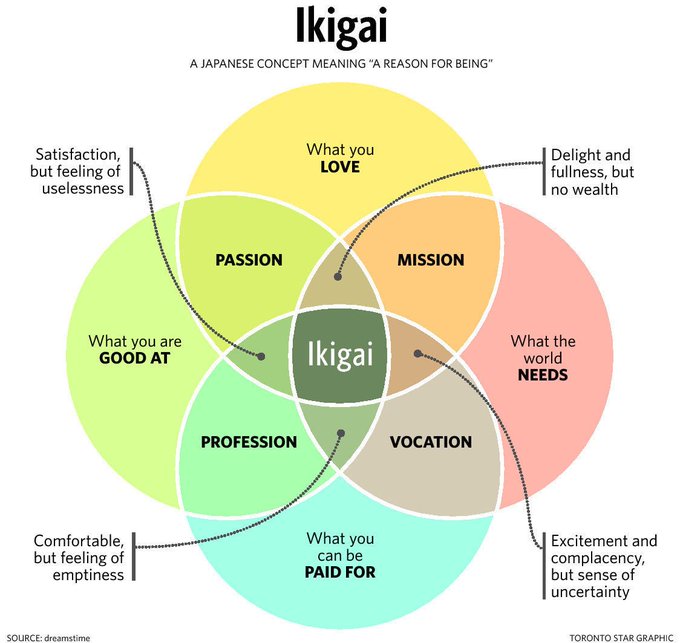 Strictly only 3-way – anyone on a mission to love stuff the world doesn't need is surely a twisted psychopath? (Except with a narrow utilitarian idea of "need".) Or if you prefer, what the world needs …. is love.]