Amazingly, after so many convergent threads on systems architectures and their fragility or resilience to well-placed viruses or bugs – in my agenda that "system" being the whole of science-led rational orthodoxy – I have may times used the systems thinking approach that complex systems (like politics plus media plus social-media) need moderation in the speed of communications in key layers. (As opposed to yes/no censorship of content.) We need this kind of thinking in order not to degenerate to lowest common viral denominators through social-media. (Sadly the prevailing "virus" is that any kind of moderation is a constraint on the much fetishised idol of "freedom of speech".)
The threat / promise that Elon Musk likes Twitter so much he might buy it, in order to support that fetish, has got a lot of people thinking, and sure enough systems architecture thinking has gained a little traction:
When talking about how to improve social media, don't focus so much on content moderation; focus on the architecture of viral dynamics. [full conversation coming soon] https://t.co/sxLiyibMD4

— Jonathan Haidt (@JonHaidt) April 15, 2022
Some of us have been watching the exact same cycle play out since 90s-era IRC chat room days pic.twitter.com/xdGsBIdhaT

— Jason Pargin, author of John Dies at the End, etc (@JohnDiesattheEn) April 4, 2022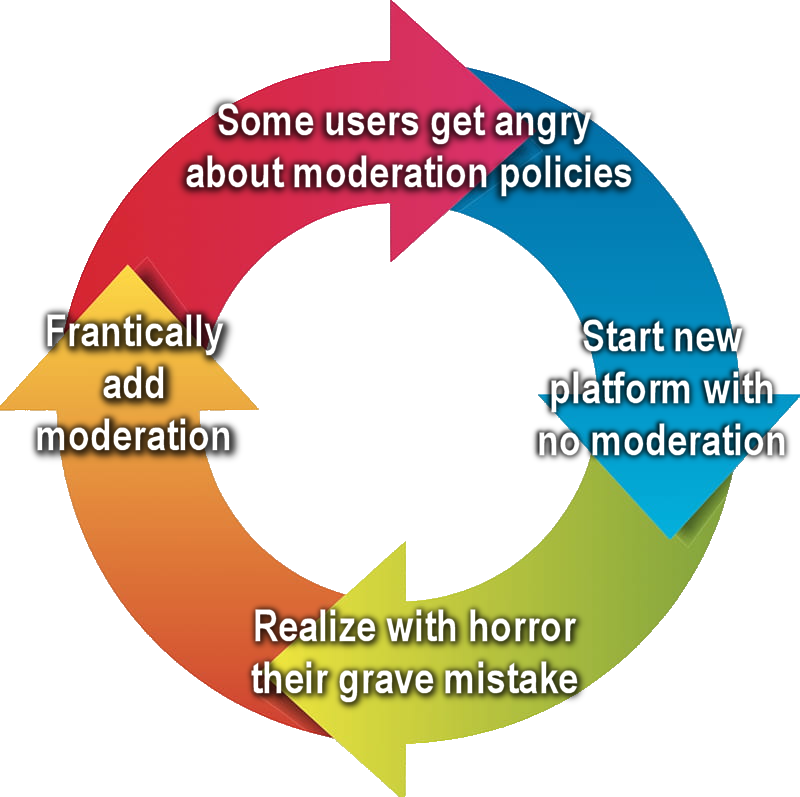 Naturally, I enthusiastically agreed with both.
=====
Freedom runs on rails.
There are rules of engagement.